No agent or home seller wants to have a home change status from active to pending and then go back to active or back on the market. This can stigmatize a home and often times other agents will ask as to why it fell out of escrow. They may assume something is wrong with the home and that is the reason the first buyer did not proceed with the purchase. A home seller may now be concerned that the home is stigmatized with something "wrong" with their home!
It is important for a listing agent to properly review the offer and ensure that the buyer has the financial documentation to back up the offer. The buyer should show proof of the down payment, pre-approval letter and proof of funds for down payment and closing costs. A seller does not want to tie up their property without having that information first.
As a listing agent, the offer is stronger if the financial documentation accompanies the offer! There are several reasons that a home can come back on the market!!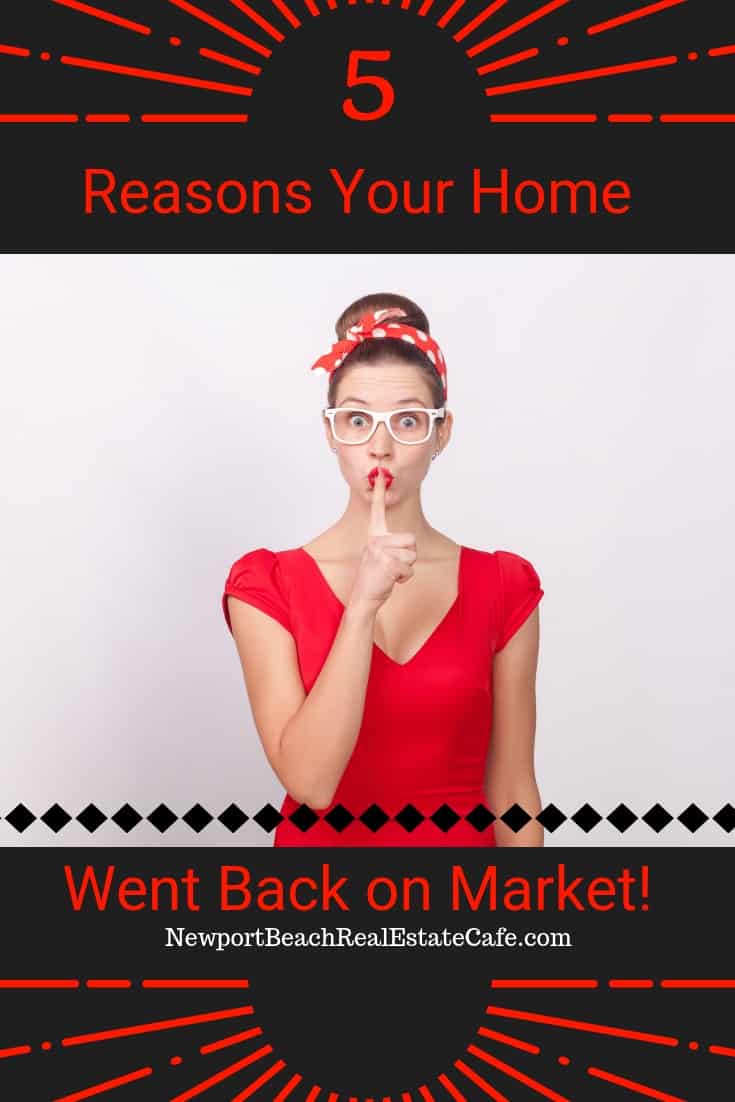 Buyers May Be Submitting Multiple Offers
Depending upon the real estate market, the buyer may be working with an agent who is going around from home to home and submitting offers on the property. As a result, the buyer may have accepted offers on more than one property. This is unscrupulous behavior and unfair to sellers and agents as these buyers are just tying up the homes!
To avoid having this happen, the listing agent should have a conversation with the buyer's agent about the sincerity of the buyer's offer before changing the status in the MLS.
Home Inspection Negotiations Could Not Be Met
After a home inspection, the home buyer may have identified some concerns about the home which may end up being costly. After a home inspection, the buyer decides to walk if they feel the repairs are too costly, or they can ask for a request for repair on the items found on the home inspection. The seller may work with the buyer by either reducing the price, offering or a credit or they may not respond at all! If that is the case, then the buyer may decide to walk away!
The Home Didn't Appraise
If a home is overpriced, and the seller got lucky and a buyer actually made an overvalued offer on the property, the offer may be inflated! If the buyer is obtaining financing, then the purchase will be contingent upon having an appraisal done. The appraiser will consider "like" properties with regards to recent sales in the area and consider the upgrades, location and more. Some appraisers will consider a view, however, views can be subjective unless it is a full on waterfront or ocean view!
Financing Was Denied!
A buyer may be unable to qualify for the loan and there is a loan contingency in the purchase agreement as well. A lender will consider all of the buyer's financial obligations, assets, and debt. Then they will be able to determine as to whether or not the buyer will qualify to obtain a mortgage on the property. There are different lending programs, however, prior to beginning the home search a buyer should have a meeting with a lender to go over their financial status to ensure the buyer will qualify.
Again, this is important for the listing agent to have the pre-approval letter along with proof of funds before tying up the property in escrow. It is not out of the scope for a listing agent to contact the buyer's lender to ensure they will be able to qualify.
Buyer's Remorse
There are times when buyers may get cold feet, perhaps the home is slightly a reach for them and they feel they cannot afford it! Or perhaps they made an emotional decision because the home was so beautifully presented they made a decision based upon the appearance in lieu of a property which is more properly suited for them! Additionally, buyers may have a concern about the financial expectation with regards to maintenance, upgrades and more!
Final Thoughts
Unfortunately, there are sometimes when a buyer will cancel for a myriad of reasons including they found another home! They have the right to cancel until their contingency period is up! These reasons include finding another home, home inspection issues and negotiations, buyer's remorse and more!
Remember that as a seller, you want to be prepared for the process of home selling and what to expect during the listing period and also during the escrow time frame. Working with buyers is reasonable, however, there are some sellers who are steadfast and refuse to even offer a nickel because they think they have sold the home at a really "good price". However, both parties should show good faith in some capacity, and Realtors representing sellers and buyers should be working together to bring together the parties. It is in the best interest for all parties to work together.
What are 5 Reasons Your Home went back on the Market? https://t.co/X95zF3n4xH via @WellingtonHomez @massrealty @PaulPsian @LynnPineda @MadisonMortgage and @JohninPhoenix pic.twitter.com/QzBNv1DZe9

— Sharon Paxson (@SharonPaxson) December 3, 2018
Find Other Valuable Resources for "5 Reasons Your Home Went Back on the Market" from Real Estate Professionals Across the Country. Please check out the articles below, and please share across Social Media if you enjoyed the articles.
Why Do Homes Come Back on Market? via Michelle Gibson, Wellington Fl Realtor
Putting a Home Back on the Market After a Failed Home Inspection via Bill Gassett, Maximum Real Estate
What is an Escrow Holdback via Paul Sian, Cincinnati and Northern Kentucky Real Estate
What Happens when a Buyer Defaults via Lynn Pineda, Imagine Your House
How to Get a Mortage via Luke Skar, Inlanta Mortgage
Selling Your Home Quickly via John Cunningham, Phoenix Real Estate
About the Author
The above real estate article "5 Reasons Your Home Went Back on the Market" was written by Sharon Paxson of Newport Beach Real Estate. With experience since 2005 representing sellers, buyers, and landlords with their real estate transactions, we welcome the opportunity to share our knowledge and expertise and guide you through the home buying or selling process.
We service the following Orange County CA areas: Corona del Mar, Huntington Beach, Laguna Beach, Newport Beach, Newport Coast, Orange, Santa Ana, Sunset Beach, Tustin and more! If you are considering selling your home, we welcome the opportunity to work with you and list your home with a top Newport Beach CA Realtor.
Summary
Article Name
5 Reasons Your Home Went Back on the Market
Description
No agent or home seller wants to have a home change status from active to pending and then go back to active or back on the market. This can stigmatize a home and often times other agents will ask as to why it fell out of escrow.
Author
Sharon Paxson | Newport Beach Real Estate Agent