Overpricing a Home
Overpricing a home can result in detrimental effects. There are many factors to consider pricing your home to sell. A home is only worth what a buyer is willing to pay for it in a particular period in time. PERIOD! If you start out with the home priced too high it may deter buyers from wanting to come and view the home! You are also sending a message to the real estate community and the home buying community that you may be an unreasonable seller who is overpricing a home.
When you are considering the price of your home, you want to compare similar properties with similar features. Consider the items which you think may add 5% to value really can be subjective to a home buyer and an appraiser. Also, looking at internet estimates is not a good idea as they don't take into account condition, upgrades, location, and more.
Value of the Home When It Goes Live
The highest perceived value of a home is when is listed and goes on the market is a good strategy to avoid overpricing a home. This is the time when your house has the most interest and the most activity. It is considered a fresh listing and will attract the highest number of potential buyers. If the home is overpriced, then it may sit on the market without any offers.
There may no few or no showings at all. When your house hits the market as a new listing, it is in the most desirable position and the competition will be the highest. If you price your home too high and your place languishes on the market, you are taking the risk the listing will become "stale". Overpricing a home will result in fewer offers.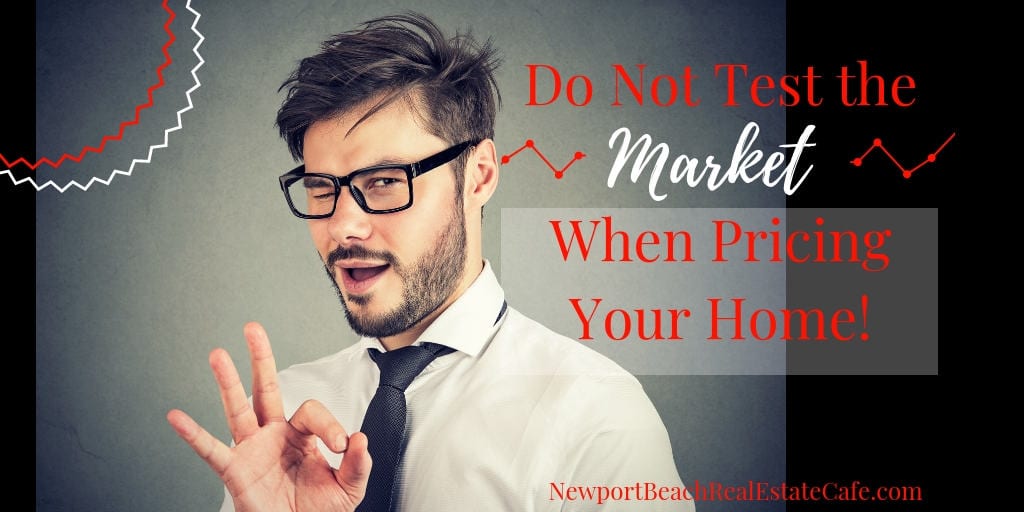 Unrealistic Price Reduction
So once you realize that your home is overpriced based upon the amount of activity it is getting and you do an unrealistic price reduction and it is still over the market value. Yes by making a change in the MLS, the property goes back on a hot sheet, and brokers and buyers will see it.
It can be difficult to get buyers back once they move on after determining that the price has been set too high. Sellers should avoid overpricing a home.
If you are making a price reduction, make a price reduction to be in alignment or slightly lower than the market. Chipping away slowly shows desperation! After a buyer moves on from a listing, they may forget about it altogether or not want to come back to view it because the home price has been lowered. The buyers may think that the seller is unrealistic and may be difficult to deal with in a transaction!
Chasing the Market
By just staying slightly above the market you can be chasing it! Thinking you are going to get every last dollar and that your upgrades that were done 10 years ago add value, they don't! Most buyers are coming in and deciding on the things that they are going to change in the property to make it their own with current trends.
Small price adjustments allow you to stay just above the market, and you will continue to chase the market down. By setting your price above the market value, you will inevitably have fewer offers that come in on the property, and the buyer may not be as strong!
It is difficult to recover from being above the market. Your home has one chance to be a new listing, so it is imperative to price it correctly right from the start and avoid overpricing a home!
Multiple Offers Unlikely
Ideally when a home is priced to sell at market value or if it is priced slightly under market value, this creates a flurry of activity and ideally, buyers will make an offer at list price or higher to secure the property. When a house is priced competitively, buyers are willing to offer a fair market value offer or higher in order to secure the property.
Having a multiple offer situation is highly unlikely at a home that is overpriced. Buyers already think the seller may be difficult to deal with! Sellers should not be overpricing a home.
Will the Property Appraise?
In the unlikely chance that you find a buyer is who willing to pay an inflated price for the home and that buyer is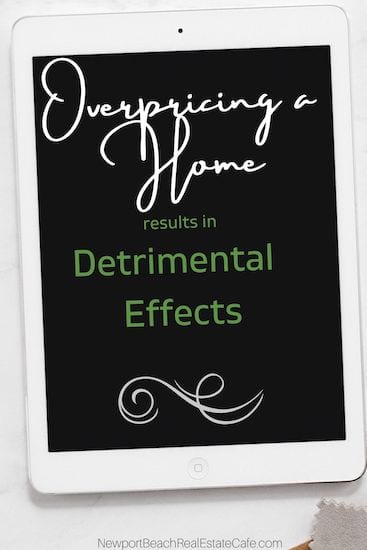 obtaining a loan, then you have to consider the appraisal. An appraiser is going to come out to the property and consider "like" properties that have sold, take into account any upgrades the home may have, and come up with an appraised value.
If the appraisal comes in low, then the sale can fall through, because most home buyers are not going to pay over the appraised value. And the lender is not going to loan on an inflated amount, lenders are going to loan on appraised value.
A solution can be to have the seller pay for an appraisal prior to putting it on the market to avoid overpricing a home. This appraisal could serve to be a selling point for the property as it could be shown to a potential buyer that it already appraised at X value to substantiate the list price.
If the home doesn't appraise as a result of overpricing, and the buyer is not willing to cover the shortfall, then the buyer will most likely walk, and now the seller has lost additional selling time and having to deal with the stigma as "back on the market" , The can cause new buyers to wonder why it fell out of escrow and if there is something wrong with the property.
Are You Accumulating Too Many Days on Market?
When a home is listed for sale and begins to accumulate too many days on the market, buyers may wonder why it is still sitting on the market. Being overpriced sends a message to the buying community that you may be an unrealistic seller and a buyer may not want to consider going into escrow with someone who can be unrealistic.
Days on the market can make the listing seem stale! And new listings in the same area come on the market, and buyers may flock to those because of a better location, features, and realistic price. Your stale listing can help sell the new one that came on the market!
Selling Your Home out of Desperation
Perhaps the seller has already purchased a home out of the area, and it is late summer, and the children need to start school in their new school, this may result in the seller dropping the price just to sell it! And perhaps carrying two mortgages may be overwhelming and unrealistic for a seller.
Overall when you are desperate, you will make the necessary adjustments in order to sell the property. This can result in a very low sales price and you do not want to sell out of desperation! Having a plan from the beginning will result in the highest market value for your home in the shortest period of time! You want to avoid overpricing a home.
Final Thoughts
Overpricing your home can have long-term damaging effects that are difficult to recover from in the selling process. Work with an experienced agent and look at the comparable properties that have sold, and the direction the market is going. It is never a good idea to "test the market" just to "see" if you can get a higher price. Price it to sell, and keep in mind it is a business transaction.
Find Other Valuable Resources for "7 Reasons Why Overpricing May Result in Detrimental Effects" from Real Estate Professionals Across the Country. Please check out the articles below, and please share across Social Media if you liked the articles.
8 Costly Mistakes Home Sellers Make via Michelle Gibson, Wellington Florida Realtor
Overpricing Creates Damaging Effects via Bill Gassett, Maximum Real Estate Exposure
10 Challenges When Selling a Home via Kyle Hiscock, Rochester Real Estate
How To Determine If Your Home Is Overpriced via Lynn Pineda, Imagine Your House
9 Reasons Why Sellers Overprice Their Home via Kevin Vitali, Real Estate in Essex & Northern Middlesex Counties, Massachusett
About the Author
The above real estate article "7 Reasons Why Overpricing May Result in Detrimental Effects" was written by Sharon Paxson of Newport Beach Real Estate. With combined experience since 2005 with selling or buying, we would love to share our knowledge and expertise and guide you through the home buying or selling process.
We service the following Orange County CA areas: Corona del Mar, Huntington Beach, Laguna Beach, Newport Beach, Newport Coast, Orange, Santa Ana, Sunset Beach, Tustin, and more! If you are considering selling your home, we welcome the opportunity to work with you and list your home with a top Newport Beach CA Realtor.