Happy Independence Day! The 4th of July Declaration of Independence was originally signed on July 4, 1776. Enjoy this post about the Newport Beach area for the fourth of July! Check out the 4th of July activities in Newport Beach 2021!
Visit Newport Beach!
If you are going to be coming to the beach, I recommend that you arrive early to secure legal parking. Most of the parking lots do have meters that take credit cards. Be sure to bring supplies including beach chairs, umbrellas, sunscreen, snacks, and drinks (alcohol is not legal in public). Dogs are not allowed on the beaches, so you may want to leave your pup at home!
If you decide to visit the Newport Beach Pier the beach is beautiful there, and it is always recommended to swim next to a lifeguard tower. If you are unsure about the condition of the surf, then be sure to ask the lifeguards. In Newport Beach, there are flags that are flown to show the condition of the surf.
Green Flag – Small waves. Rip currents may be present
Yellow Flag – Small waves. Rip currents may be present
Red Flag – Hazardous conditions. Large waves. Expert ocean swimmers only!
Blackball – No surfboards or skimboards due to crowds. Bodyboards are OK, except at the Wedge.
Note the photo of the lifeguard towers at the Newport Beach pier with both a green flag and a yellow flag with a black ball that means no surfboards!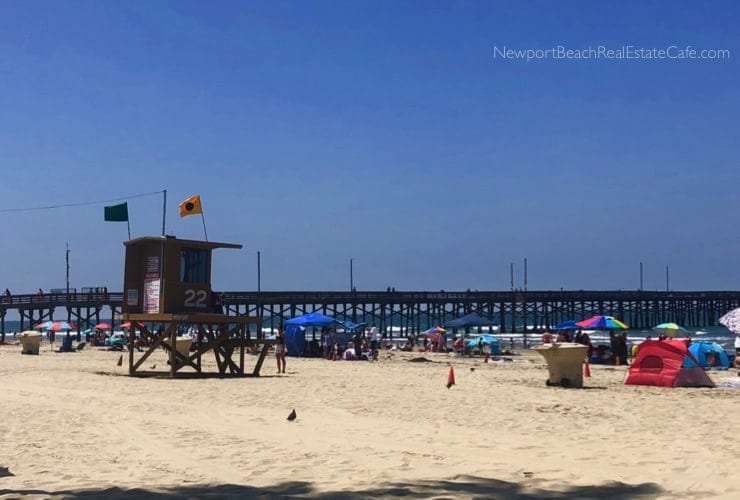 Newport Shores 4th of July Parade
Every year Newport Shores has an organized day for the residents of the area. Enjoy a parade and other festivities! The neighbors decorate their bikes, their children, their dogs and wagons with red, white and blue to celebrate the holiday. The parade begins at the clubhouse promptly at 10:00 AM.
The schedule for the Fourth of July is as follows:
Parade – 10:00 AM
Carnival Games & Fun – 11:00 AM to 2:00 PM
Coin Dive Challenge – 1:00 PM
Prizes awarded at 2:00 PM
Mariner's Park July 4th Parade
The 4th of July celebration begins with a bicycle parade on Mariners Drive which will begin at 10:30 AM. There will be activities after the parade at 11:00 AM at Mariners Park. There is no better way to celebrate on the 4th of July than with your neighbors and members of the local business community.
Visit Mariners Park and enjoy the festivities which include games for children, food and entertainment. It is a great way to enjoy the holiday with family and friends. The proceeds from the event will benefit Mariners Elementary School.
Old Glory Boat Parade
The American Legion hosts the parade. The theme of this year's Old Glory Boat Parade which is a tradition in Newport Beach is "Valor – Through the Generations" The annual parade begins at 1:00 PM to 3:30 PM. The parade will begin at Collins Island which is one of the three islands of Balboa Island. View the route below:
The event is free but it is such a joy to see the boats and yachts decorated so patriotically. Consider renting a Duffy boat to enjoy the event.
View some of the decorated boats, and everyone is having a fantastic time!
Newport Peninsula Bike Parade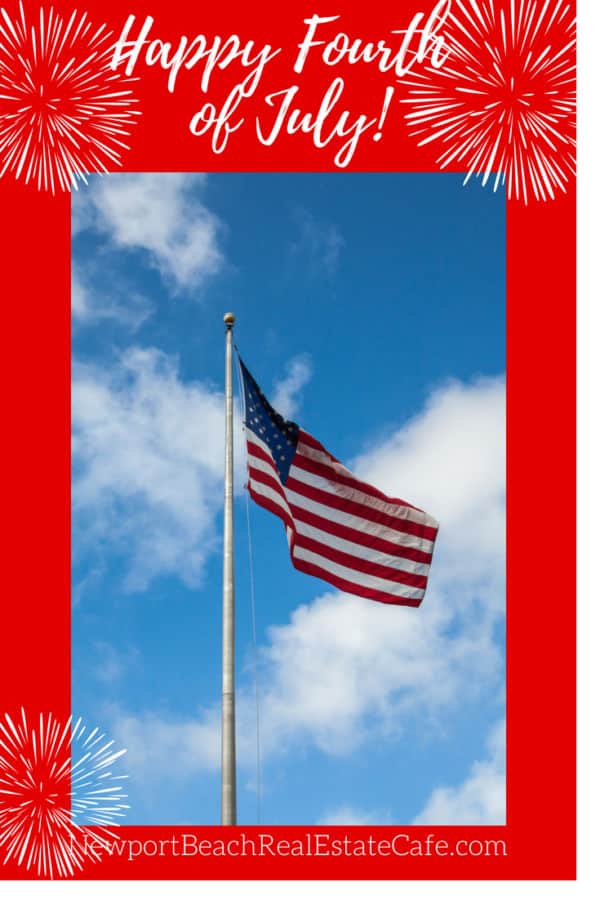 The City of Newport Beach will be hosting the 8th annual Newport Peninsula Bike Parade and Community Festival on July 4. The residents decorate their bikes with red, white and blue to get everyone in the spirit! The parade will begin at 9:00 AM at the 36th Street Park (by the basketball courts) and the route will head down Balboa Boulevard to Channel Place Park. This event is hosted by the City o
f Newport Beach, and enjoy games, slides, activities and more. If you have a dog, be sure to have it on a leash!
Independence Day on the Bay
Enjoy the back bay at Newport Dunes Waterfront Resort & Marina. There will be a 4th of July celebration for the entire family. Enjoy live music, food trucks and there will be a live fireworks presentation over the back bay.
Be sure to arrive with beach chairs, umbrellas, sunscreen and more to enjoy the festivities at Newport Dunes.
Huntington Beach
Also, there is a fireworks display over the Huntington Beach Pier which begins at 9 pm also. Many residents of Newport are able to view this fireworks display if they are in the West Newport Beach area. Huntington Beach also has an amazing Fourth of July parade and this year's theme is "A Star Spangled Salute".
Parking
If you are looking to spend a day in Newport Beach, be sure to arrive early to avoid the traffic, and attempt to secure a legal parking spot. And be sure to park in a legal parking spot, or you will be towed. Please do not park in front of resident's driveways, or you are risking being towed!
Closing
Have a safe Fourth of July and enjoy all that Newport Beach has to offer!
If I can answer any questions about the Newport Beach area, please contact me!
Looking to visit Newport Beach for the Fourth of July? You will find some great local information here on where to celebrate the Fourth of July in Newport Beach https://t.co/6MOjXIG482 pic.twitter.com/FPHpbFP9PJ

— Sharon Paxson (@SharonPaxson) July 2, 2018