1. Prepare your home to sell. There are some considerations that should be taken into account when selling your home:
Address deferred maintenance
Paint a neutral color interior and exterior if needed
De-clutter and organize closets and drawers
Professional clean windows – let the sun shine in!!
Remove personal photographs. The idea is to have your home to appeal to most amount of buyers, which will result in a quicker sale.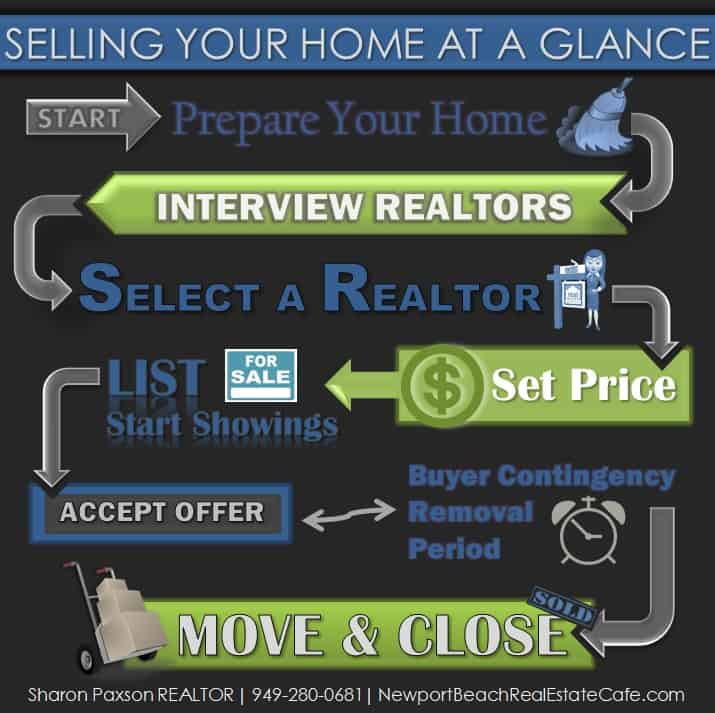 2. Interview and select a Realtor® to represent you in the sale of your home.
Hire a Realtor that is a neighborhood specialist. Google your neighborhood, and talk to the agent who comes up in that neighborhood.
Ask for testimonials from past clients.
Ask method of communication do you prefer texting, emailing or voice to voice.
What is the agent's marketing plan? Online marketing is extremely important. Putting a property in the MLS will syndicate (with your approval) to all 3rd party sites, but what else is the agent going to do to market your property. Ask questions.
3. Set Price of Property:
Review recent comparable sales
Think like a buyer – you want to start thinking how buyers think when they walk into your property.
Be objective, it is a business transaction
The property is worth what someone is willing to pay for it in a particular period in time.
4. List and Begin Showings:
Put away valuables, prescription drugs or firearms
Establish showing schedule with your Realtor. Do you want 24 hour notice or can you show within a time frame.
Think about your pets, and they need to be put away or out of property during showings.
Make sure house is neat and tidy for all showings.
Use caution with with items such as scented candles, because even if you like the smell, the other party may not.
5. Accept Offer:
You will receive offers on your Newport Beach property for sale, and your Realtor will discuss the terms of each offer. The terms are price, down payment, length of escrow, cash or if they are getting a loan. Be sure the buyer has a pre-approval from a lender who can perform.
6. Remove Contingency:
In the contract, there is a section for contingency removal, in the California Residential Purchase Agreement, the buyer contingencies are removed within 17 days, with the exception of the loan contingency which is generally removed in 21 days. These are negotiable items.
The buyer removes the contingencies, but as a Seller it is important to be aware of these time frames, and how closely are they managed.
7. Close of Escrow and Move:
In the contract, there will be a close of escrow date that buyer and seller agree to in the negotiations of the contract.
Once escrow is closed on your Newport Beach home for sale, then it will be time to move.
If I can answer any questions about the selling process, please contact me.
8 Steps for Selling Your Home https://t.co/tZAfGdO7oK via @sharonpaxson

— Sharon Paxson (@SharonPaxson) May 16, 2018
About the Author
The above real estate article "8 Steps to Selling Your Home" was written by Sharon Paxson of Newport Beach Real Estate. With combined experience since 2005 with representing sellers, buyers, landlords, and tenants, we welcome the opportunity to share our knowledge and expertise and guide you through your real estate transaction.
We service the following Orange County CA areas: Corona del Mar, Huntington Beach, Laguna Beach, Newport Beach, Newport Coast, Orange, Santa Ana, Sunset Beach, Tustin and more! If you are considering selling your home, we welcome the opportunity to work with you and list your home with a top Newport Beach CA Realtor.