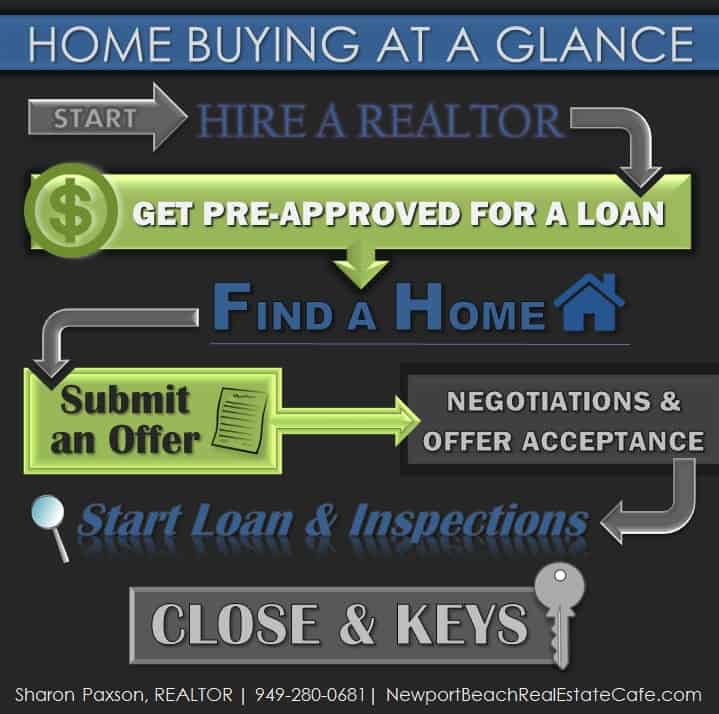 Select a Realtor: Are you considering purchasing a home in Newport Beach? There are many considerations. When you are considering one of the largest purchases that you will ever make, it is essential that you work with a licensed Real Estate Professional. Interview and talk to Realtors in your area and select a Realtor.
There are tremendous benefits of home ownership in Newport Beach including the monthly payment contributes to the equity of your home and currently the interest is tax deductible (consult your tax advisor) and so are property taxes. With the interest rates as they are today, it is a great time to purchase a Newport Beach home.
When you are navigating the home buying process, it is essential that you work with a Real Estate Professional. A Real Estate professional will guide your through the process.
Get Pre-Approved for a Loan: Another important step is to meet with a lender or consult a lender to obtain pre-approval for a loan. Your Realtor will know how much you have been qualified for with a home loan. Typically, a Realtor will provide a pre-approval letter along with any offer than is made on real property.
Find a Home: Then, it is deciding to find the Newport Beach property which fits your needs and expectations. A professional Realtor will take you out to the Newport Beach communities, based upon what is important to you. Some buyers prefer condos versus single family homes. Consider number of bedrooms, bathrooms, and size of home. Also, consider if you are wanting a fixer (if you are handy) or a home which is newer, or has been remodeled. It is important to remember that unless you budget is unlimited, there are typically concessions a buyer might have to make when purchasing a Newport Beach home for sale.
The offer: After you have identified the property you want to make an offer on, your Newport Beach Real Estate real estate professional will prepare a comparative market analysis to look at similar sold properties and to determine fair market value. Other terms include earnest money deposit, length of escrow, and length of contingency period.
Negotiations and offer acceptance: It is not uncommon for the offer to receive a counter offer, and negotiations may go back and forth between buyer and seller. Ultimately, buyer and seller agree and contract is executed and escrow opens.
Start Loan and Inspections: You will have already been working with your lender in order to have them work within the time frames within the contract. It is important to provide them with whatever documents they need in a timely manner in order to stay within the timelines in the residential purchase agreement. Additionally, you will have a home inspection, and it is your right to have whatever inspections to ensure you feel satisfied to have done your due diligence. As a buyer, it is important to know as many details to find out about the property. After the contingency period, contingencies are removed, and then the time will be waiting for close of escrow date.
Close and Keys: The escrow will close. In Orange County CA, the loan will fund and can be recorded in the same day. Depending on what you agreed to in contract, you will obtain your keys once property has recorded.
And then time to move in!!!
If I can answer any questions about the home buying process for a Newport Beach home for sale, please contact me.
Please fill out the form below if you would like to contact us for more information on home buying in Newport Beach CA.