Aging in place is an important consideration for seniors. Understandably, seniors want to remain in their homes for as long as possible, without being forced into a nursing facility or assisted living arrangement. This allows seniors to keep their independence for longer and avoid the stress involved in such a move.
If you like the idea of aging in place and staying in your home for longer, there are some things you need to do when looking for a property. It isn't a particularly great thing to think about, but we are all going to face problems as we move into our senior years which are going to make it more challenging to stay in our homes.
As we get older, difficulty in moving around becomes more of an issue. While any home can be modified to allow some assistance to people with restricted movement, there are limits. You should have a plan to ensure the home you are buying is suitable for your potential future situation.
The most important factor is a senior is going to be aging in place is their safety.
Single Story Homes
Aging in place is going to be much easier if you don't have to face the problem of stairs within your home. With everything on a single story, you will have less to worry about if you face mobility problems in the future.
If your home is split over several floors, you can have adaptations fitted but they will be expensive. Stairs are a hazard in the home which you'll want to avoid to allow you to stay in your home for longer.
An experienced Realtor should be able to help you find homes which only have a single story in the area you want to live in. If there is a lack of suitable properties, you should make sure that the main bedroom and bathroom are on the same level.
Having a home that is level is also more beneficial for a senior using any adaptive equipment such as a walker or a cane.
Entering the Home
You will want to avoid a home which has steps to the front door of the house. You may be able to have a ramp fitted if it is needed at a later stage, but it is better to have fewer or no steps to start with. Handrails are going to be useful for any steps or slopes to the entry of your property as well.
Another thing to look for is easy access from the garage. If you can move from your car straight into your home, you can avoid being exposed to the weather and it will make bringing in the groceries considerably easier.
Bathrooms
If your bathroom is larger it will make it easier to fit handrails or grab bars if they are needed. Some may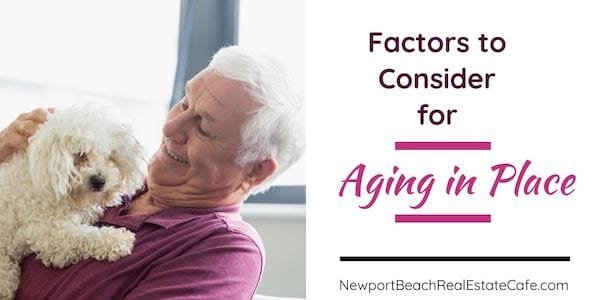 require a raised toilet seat and grab bars. Bathtubs can be replaced with bath benches if needed, but a separate shower will probably delay the need for this sort of renovation. Consider installing grab bars in the shower and non-skid mats on the floor of the shower. If you have a bathtub, there are bath benches available that go over the side of the tub where the person can sit down and slide on into the bathtub while remaining on the bench. Another important feature is to add a handheld showerhead. There are some great tips on how to update your bathroom making it appealing as well as functional.
Floors
Rugs over hardwood floors can start to become a serious hazard when we advance in age. Any change in flooring in your living areas, and between rooms, could have the potential to cause you to trip. You may want to replace flooring in your new home anyway, but this is something to consider.
Pick up throw rugs, and be sure to check out the transition between rooms to ensure it is a level surface and is not a trip hazard.
Location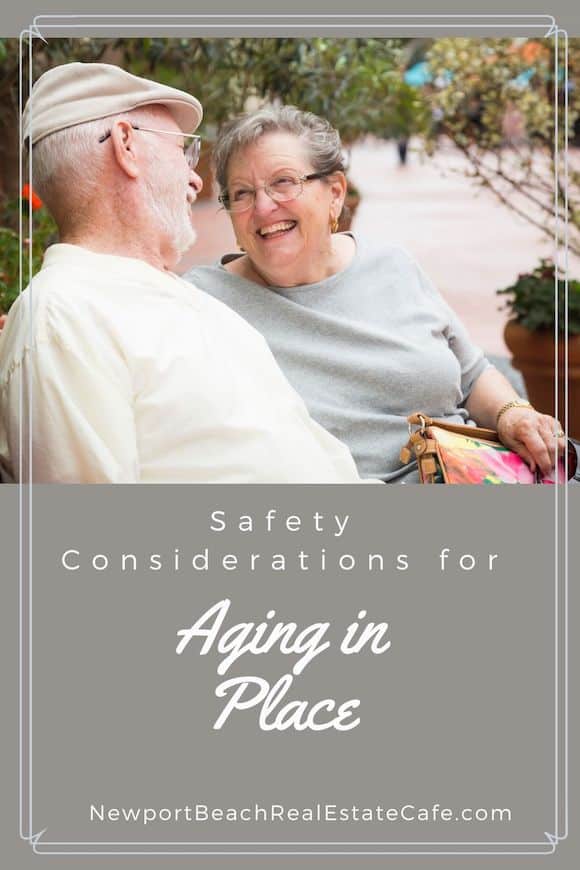 It may be worth considering moving to an over 55+ community. This will have the benefit of having facilities to meet your changing needs, with fitness centers, arts, and crafts, tennis courts, and golf courses potentially are offered. Sometimes, such facilities will be offered through an additional membership fee above standard HOA charges.
Moving into a 55+ community can have some restrictions on the pets you are allowed to bring. Before you commit to moving to this type of community make sure any pets will be able to come with you. And you will want to know about moving with pets to ensure a stress-free move for them as well.
Whether you are moving into a senior community or not, you will be better in an area with fewer hills and wide sidewalks. Less uneven surfaces in your local area will make it easier to stay active with a daily walk.
Another consideration is the proximity to medical facilities in the local area. How close you are to your doctor's office is going to make your life easier, as visits get more frequent.
Shopping
If the senior citizen is no longer driving, there are many ways to shop online. Be sure to educate them on a computer or iPad and show them how to shop online for deliveries. Demonstrate how you order from a grocery store, Amazon and more.
Conclusion
It isn't a nice thing to think about, but getting older brings with it new challenges. If you are moving and you want to age in place, you need to think ahead and consider potential future issues. If you do this, you can look forward to a longer period of independence in your home and a safer environment.
Other Valuable Resources for "Aging in Place" from Real Estate Professionals Across the Country. Please check out the articles below, and please share across Social Media if you liked the articles.
If staying in the current home is no longer an option, and the senior has to relocate, you will find some excellent tips about Downsizing for Seniors written by Anita Clark. In the article, she discusses the importance of taking before photos and ensuring it is a positive atmosphere. It can be distressing for a senior to move out of their home.
Retirement communities are an attractive option for senior home buyers, and they generally have amenities to keep them busy. Bill Gassett has written an excellent post about downsizing tips. In the article, there is information about how to know when it is time to downsize and one factor is when your kids move out!
Downsizing can be traumatic for a senior especially if they have lived in their residence for an extended period. Eileen Anderson has put together a detailed post about How to Overcome the Stress of Downsizing. She discusses the financial implications of downsizing and who will be helping them to make the decision about downsizing. Other factors include finding a community that suits your lifestyle.
About the Author
The above real estate article "Aging in Place" was written by Sharon Paxson of Newport Beach Real Estate. With experience since 2005 representing clients with their real estate transactions, we welcome the opportunity to share our knowledge and expertise and guide you through the home buying or selling process.
We service the following Orange County CA areas: Corona del Mar, Huntington Beach, Laguna Beach, Newport Beach, Newport Coast, Orange, Santa Ana, Sunset Beach, Tustin and more! If you are considering selling your home, we welcome the opportunity to work with you and list your home with a top Newport Beach CA Realtor.