Focal Point
An essential design element, the focal point is something that every room needs in order to look polished and put-together. It is also one of the secrets interior designers rely on when they are staging a home. Here are some of the best interior design tricks you can use to create a captivating focal point and design a compelling living space that will make prospective home buyers say 'Wow!' as soon as they enter your home.
Create an attractive focal point with powerful artwork
Any room can benefit from the addition of some attention-grabbing artwork. Whether it's a stunning sculpture, fine-art photograph, or an intriguing, thought-provoking painting hung on the wall, the artwork makes for a powerful design element that's certain to command attention and give the property a luxurious vibe. The effect of the artwork can be further enhanced with the help of carefully chosen frames as well as with the strategic use of accent lighting.
Displaying eye-catching artwork is a great way to add visual interest to plain, dull walls while also being effective for setting the mood in a room and will create a focal point. The artwork can even be used as a source of inspiration for the color scheme of the room. Simply select the dominant colors from the artwork and then find decor pieces that fit within that color palette – usually, those will include pillows, area rugs, accent chairs, and curtains. That way, the colors will tie in perfectly with the artwork and create a sense of cohesiveness in a room. There is always value in staging a home.
Rely on collections to create a compelling showstopper
If you'd rather rely on multiple decor elements to draw attention instead of one single piece of art, you can try using collections to design a perfect focal point for a room. The items you select for your collection can range from beautiful decorative vases and artisan hand-woven baskets to luscious indoor plants and compelling photograph collections. When grouping the items, pay attention to their colors, textures, and materials, and make sure they complement each other. You can also vary their sizes and heights to make the groupings even more captivating. There's no doubt that collections make for powerful conversation starters and whichever route you decide to take, these compelling showstoppers are bound to attract the attention of house hunters and create excellent first impressions.
Design a feature wall with effective 3D wall tiles
Simple yet stunning, feature walls have the power to completely transform the room's feel and make for an instant focal point wherever they're placed. While a traditional approach to designing feature walls usually means going for a bold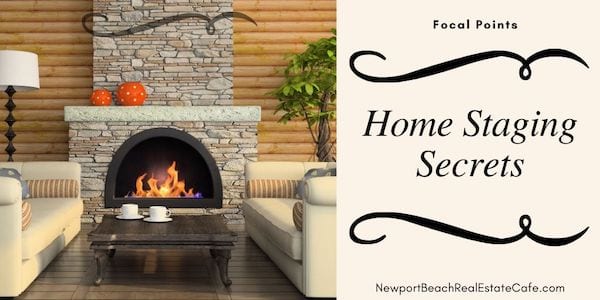 color or using wallpapers, if you'd like to try something more innovative and up-to-date, you should consider using the effective 3D tiles for wall decoration for designing your feature wall.
The wall tiles come in a wide range of designs which gives you enough room to showcase your creativity while also being quite simple to install.
After the 3D tiles system is installed onto the wall, it is then painted with a paint color of your choice so it can fit in seamlessly with the rest of the interior, whether it's a living room, a bedroom, or a home office space. With careful planning and positioning of the lighting, you can get a stunning play of light and shadow and enrich the quality of your interiors, and creates a focal point.
Make your fireplace the center of attention
If your home has a fireplace, you don't have to worry about creating another focal point – your room already has one! Practical and functional, fireplaces make for stunning decor elements and act as focal points on their own without you even trying. Make yours the center of attention by situating furniture around it – rely on sofas, coffee tables, and accent chairs to create a 'zone' and design a cozy, pleasant conversation area.
A fireplace as a focal point will allow the prospective buyers to envision themselves living there, having a chat over their morning coffee, gathering with friends and family, or simply relaxing after a long day. If your fireplace has got a mantelpiece, you can accessorize and emphasize it even more to create a focal point. Wall sconces are another effective fireplace add-on that can direct the attention of potential home buyers to this stunning piece, so get creative and make the most of what you already have.
Home Staging Secrets | Create a focal point
Click To Tweet
Create a focal point with stunning architectural features
Another way to make use of already existing features in your home would be to try to emphasize its structural details. Similar to fireplaces, the architectural features of a home act as built-in focal points. As such, they require very little effort in order to be accentuated while also leaving enough room for expressing your creativity. For instance, you can use paint in a contrasting color to make the beams stand out from the ceiling, emphasize large windows with effective window treatments, or hang an effective, statement-making lighting fixture to direct the eye towards a high ceiling. The key is to work with what you've got and made it work for you.
Take full advantage of a breathtaking view
Something as simple as a gorgeous view goes a long way in making a great first impression on potential home buyers and create a focal point. In fact, breathtaking, picturesque scenery can make such an impact on the clients that it sometimes might act as the deciding factor that drives them to seal the deal right on the spot and make a purchase. In coastal communities, buyers tend to prefer waterfront views which is also breathtaking. To take full advantage of the windows that provide a jaw-dropping view, you want to make some minor changes that will help accentuate this attractive feature even more. A quick rearrangement of the furniture pieces can make this focal point even more impactful, while the addition of some effective window treatments will dress your room for success and ensure that your windows offer a breathtaking panorama that evolves from hour to hour.
Conclusion
Staging a home for sale might seem like a daunting task. However, when you've got some interior design tricks up your sleeve, it is easy to create a focal point. Designing a house someone else will want to call home can be as easy as accentuating some stand-out features in your interiors.
About the Author
Chloe is a graduated journalist and the editor-in-chief of Smooth Decorator. She loves everything related to home decor, organizing, and other lifestyle-related topics. She is also passionate about photography. Her biggest dream is to travel the whole world and take some stunning photographs of beautiful places. Besides all this, she enjoys drinking coffee and reading a beautiful book from time to time.