Home Buying
Are you considering purchasing a home? There are some steps to take into consideration when purchasing a home which should be taken into account before you begin the home search process.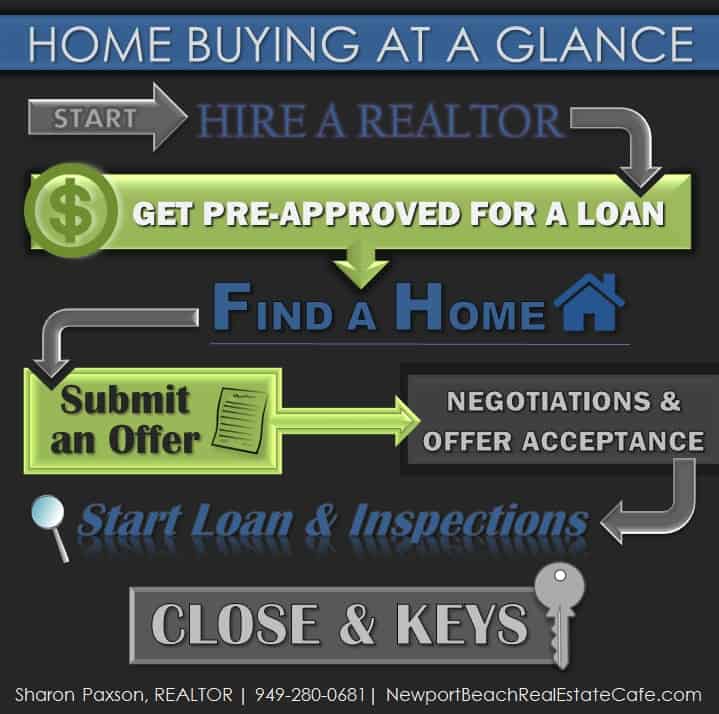 1. The first step to hire a Realtor®. Your Realtor® will guide you through the home buying process. There are many considerations when hiring a Realtor. A home purchase is one of the largest purchases that you will ever make, it is essential that you work with a licensed Real Estate Professional who is experienced.
Create a list of questions, and include questions about, have you sold in this area, what do you know about the community, what schools do the children attend in this area. Let each agent know that you are in the interviewing stage. Then select the Real Estate agent with whom you feel most comfortable. Make sure your Realtor is a member of the board and has MLS access and is a member of California Association of Realtors and NAR. A Realtor may or may not ask you to sign a buyer broker agreement. If you sign a buyer broker, you are committing yourself to working with that agent. Ask about the agent's production and if they are in Real Estate on a full time basis. It is imperative to have a full time agent and one who stays current with any changes with the contracts.
You can Google Realtors in the area and I would suggest working with someone who is knowledgeable about the area and the surrounding schools. There may be neighborhood nuances that you might not be aware of such as the location of a sports field where the lights stay on until 10 pm, or there is an easement in the community.
Interview and talk to Realtors in your area and select a Realtor. Establish the method of communication whether it be on the phone, email or text.
What can you expect when working with a Realtor? A professional, who will communicate with you, explain the home buying process, educate you about recent home sales and keep you within the timelines of the home buying process. The Realtor will have your fiduciary responsibility.
2. Get Pre-Approved for a Loan: This step may be concurrent with step number 1, as you need to know if you will qualify to obtain a loan. This is a crucial step is to consult with a lender to obtain pre-approval for a loan. This needs to be done prior to going out to look at properties. Best not to get your hopes up about a home or an area if you cannot afford it. Many lenders are getting the buyer approved and fully underwritten so they can be competitive with the home buying process.Your lender will know how much you have been qualified for with a home loan. Typically, a Realtor will provide a pre-approval or approval letter along with an offer that is made on Real property.
3. Begin your home search: Searching for a home can be done right from your computer or smartphone! Real Estate that is in the MLS is listed online, and it is easy to begin your home search. The internet has changed the way home buying is done. You really don't see the huge section of homes for sale in the weekly newspaper.
With your home search, you can change and adjust the filters of what you are looking for, such as a main floor bedroom. And after meeting with a lender, you will know what purchase price to search in. The home search will be for a home or condo which fits your needs and expectations. The community that you are interested may be too pricey, however, a condo might fight what you are looking for and there are many benefits to owning a condominium. Some buyers prefer condos versus single family homes. Keep in mind if the property is a condo, that there will be a monthly HOA. This is something the lender takes into consideration as well. Consider the number of bedrooms, bathrooms, and size of the home and the amenities in the area.
Another important consideration is the schools, and if there is a specific school you want your children to attend, a specific search can be set up for that school.
4. Making an offer on a home: Once you have identified which home you like your Realtor will prepare comparable sales to help guide you to make a realistic offer on the home. A Residential purchase contract will be written and you will need to consider the amount of earnest money, length of escrow (typically 30-45 days) and there are built-in contingencies in the contract.
5. Negotiations and offer acceptance: It is not uncommon for the offer to receive a counteroffer, and negotiations may go back and forth between buyer and seller. There may be some terms that are important for a seller, and it is a negotiation between the parties. Ultimately, buyer and seller agree and the contract is executed and escrow opens.
6. Loan and Inspections: The lender will have already been working with you getting you approved for a loan during the home search process. It is imperative to provide the lender with documents they request in a timely manner in order to stay within the timelines in the residential purchase agreement. Additionally, you will have a home inspection, and it is your right to have whatever inspections to ensure you feel satisfied to have done your due diligence. Your home inspection may trigger other inspections such as an HVAC inspection, mold inspection or a roof inspection. As a buyer, it is important to know as many details to find out about the property. After the contingency period, contingencies are removed, and then the time will be waiting for the close of escrow date.
Also during the escrow period, the listing agent will have provided the disclosures to you about the property. This will include information such as what has been remodeled, repaired or has there been water damage. It is your right to review these disclosures and if you want to have additional inspections, you can and the seller should make the home available to you for these. Keep in mind these inspections are buyer's expenses that are not refundable.
There will also be an appraisal to ensure the home will come in at the purchase price, this information is for the buyer's only and does not need to be disclosed to the seller unless it comes in under purchase price.
If the property has a Home Owner's Association, you will be provided those documents to review, and it is imperative to review the financial documents of the HOA, and you will want to know if there is pending litigation. And check the permit history of the house if renovations have been done.
Once all the contingencies have been addressed and they can be removed with the guidance of your Lender and your Real Estate agent. Once contingencies are removed, then if there is a cancellation of escrow, the earnest money would be at risk.
7. Prior to the close of escrow, you will perform a "walk-through" or "Verification of Property Condition" and then you will ensure that the requested and approved repairs have been completed and the property is in essentially the same condition as when the offer was written.
8. Close and Keys: Once the funds have been released, the property is released to the Title Company to record and change the ownership record. In Orange County California, the loan may fund and may be recorded on the same day. If you agreed to obtain the ownership in the original contract on the day of close, you will get the keys on the same day!
As a top Realtor in Newport Beach, I welcome the opportunity to assist you with the home buying process. Please contact me with any questions about home buying!
For other information about "Steps for Buying a Home" for Real Estate professionals around the country, please check out the articles below:
9 Shocking Facts Home Buyer's Don't Know via Michelle Gibson, Realtor® Wellington, Florida Real Estate
How to Home Buyers Find Homes for Sale via Kevin Vitali, Real Estate in Essex and Northern Middlesex Counties, Massachusetts
What You Wish You Had Known Before Buying A Home via Lynn Pineda, Boca Raton South Florida Real Estate
Final Walk Through and Why it is Important via Kyle Hiscock, Rochester Real Estate Blog
Considering purchasing a home, you will find the steps to home buying in this article #realestate https://t.co/5j69rFsWcb pic.twitter.com/p1Xs0YwGD1

— Sharon Paxson (@SharonPaxson) November 6, 2017
Please fill out the form below if you would like to contact us for more information on home buying in Newport Beach CA.