Protect Your Newport Beach Home at an Open House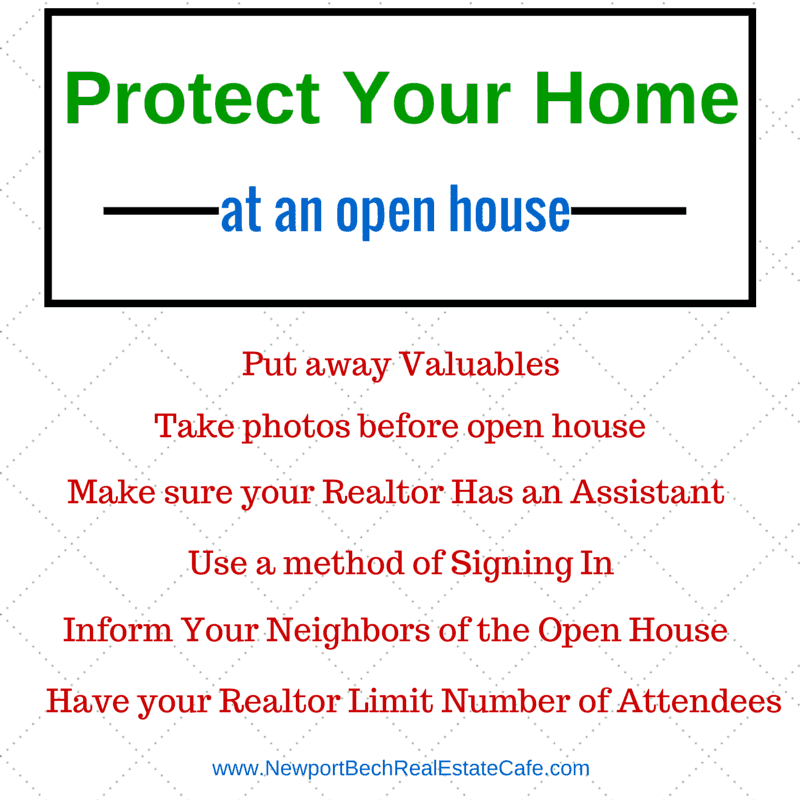 You have your Newport Beach home listed for sale and your have decided that you would like to get the additional exposure of an open house. You and your Realtor® have discussed this and preparations needs to be made.
The difference between scheduled showings and open homes are quite different. A scheduled showing is where your Realtor® accompanies potential buyers around the property, and describing in detail the benefits and feature of the home.
When you are having an open house, it is more difficult to control where people will be, so it is imperative to make sure that your property is open house ready
Secure all valuables, jewelry, electronics, firearms and prescription medication. Put it away, and not underneath or in a cabinet. Make sure it is far out of reach from someone who can easily grab and go. I have been at open houses where a "family" or large number of people come through, and they all went in different directions. Anything at all, that you consider of value, needs to be put away securely. Put it in a box labeled forks in the garage (being facetious here . . . but you get the idea). I recently heard about a story where an open house was held and there was many people that came through, and during the open house, a lap top was stolen.
Also, if you have any collectibles that you are worried about, be sure to put them away. You are getting read to move, so why not begin the moving process, and honestly less is more.
Ask your Realtor to bring an assistant to watch other doors, upstairs or locations that may be of concern.
Have your agent use some type of method to have prospects sign in, with email address also. There are also electronic methods which I do prefer, and helps to keep track who has been in the home
Be sure to inform your neighbors you are having an open house, so they can keep an eye out also.
Your Realtor can limit the number of people in the house, and just ask them to wait outside until a more manageable number is coming through.
Keep in mind, there can be prospective thieves coming through to get an idea how to gain entry into the home. Be sure to lock every single door and window after an open house to ensure that no one can easily gain entry into the home.
I have had clients in the past who asked me to prequalify every single person who came through the property.
Protect your home and discuss with your agent if the exposure will really sell the home.