When your real estate agent tells you that an open house event is going to create interest in your home he is not wrong. However, you should ask yourself if an open house event will create the RIGHT kind of interest in your home. You may be wondering if open houses are necessary to sell a home.
On the surface of it, an open house event may sound great, but there may be a problem. Not only can an open house create interest from buyers, but it can also create interest from potential burglars and put your home more at risk from a home invasion. Of course, you want to sell your home as soon as possible, but do you want to be the victim of crime? That is what you should bear in mind.
Who Attends Open Houses
Well, hopefully, the people attending the open house are potential buyers. Think about it. The open
house is listed in the MLS which then syndicates with all third party sites (such as Zillow or Redfin) letting EVERYONE know the house is going to be open. Additionally, the agent may post it on their blog, and social media sites. Additionally, directional signs are utilized to invite people to come and view the home. There are definitely security risks by opening the home for anyone to attend. It is risky for the physical property and it is risky for the agent to sit the open house especially if alone.
What is Burglary?
Burglary is defined as the unlawful entry into a home or almost any structure with the intent to commit any crime inside. There does not need to be breaking in and entering. The burglar may walk through an open door and ultimately trespass. Unlike robbery, which is an act of taking property unlawfully from a person or place by force or threat of force.
Security Cameras
If you have security cameras, be sure to notify anyone who is attending the open house. It needs to be disclosed that there are security cameras in the home. I have been in homes that have them in every single room. It is recommended to verbally notify a prospect and post a written sign as well. Having the cameras may not encourage people to want to stay in the house because they are being recorded. Any private conversations are not really private!
However, having cameras will protect the seller. If a potential thieve knows there are cameras at the house, they may be less likely to come back.
How Criminals Take Advantage of An Open House
There are many different ways in which an opportunist burglar or another criminal, can take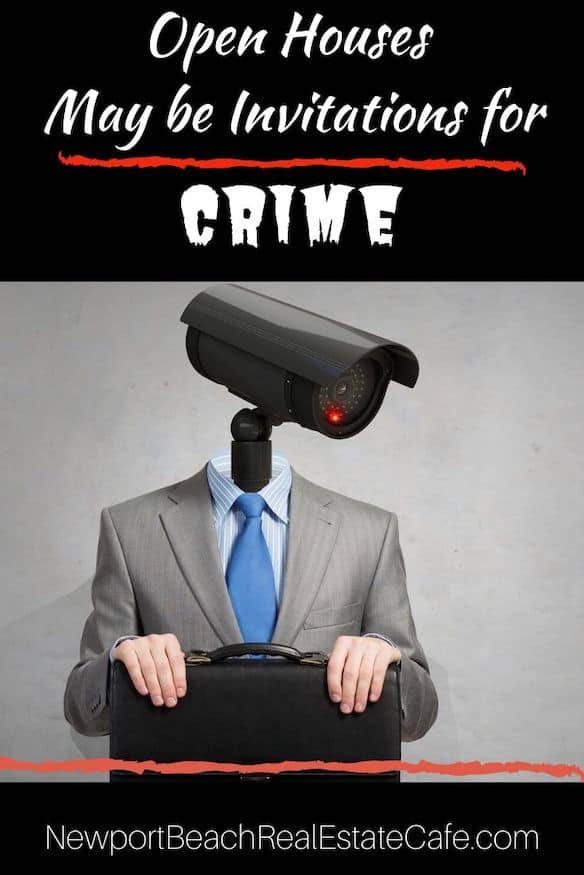 advantage of what to him or her is an open invitation.
There are items that should never be left out at an open house. On the day of an open house, a burglar may remove a few precious objects which he knows will sell easily. It is unlikely that he will remove anything major as it could raise the alarm right away. Jewelry and other small valuable trinkets are favorite on-the-day objects to walk out of the door.
Unfortunately, this is not the end of it. Burglars know what they are looking for and have a keen eye for the best things in life. It is not only your jewelry they are after. They are just as likely to check out your home and find out what they can come back for once the open house has finished.
Things that Burglars Will Check Out at the Open House
If you notice someone taking an intense interest in your home security, you should ask yourself why. They may look at all of your windows and even take a closer look at your alarm system should you have one. Often times, an unscrupulous person will unlock doors and windows to come back later.
If that happens, you should stop and ask yourself if he is really interested in your home or the alarm. Knowing a bit more about your home alarm will make it easier for him to come back at a later date.
He now knows what you have in your home, and could even turn up a couple of days later to remove other things.
If you notice small items missing, you should immediately contact the police. Sure, it is tempting to tell the real estate agent, but the police should be your first port of call.
Should a potential buyer ask you where you work and what you are hours are, alarm bells should ring. What does that have to do with the sale of your home?
Additionally, put away any mail with your name and address to avoid identity theft. Remove any items that have a personal identity, and make sure there are no credit cards that someone can slip into their pocket.
Check Out Your Insurance
Before you proceed with an open house, you need to speak to your home insurance company. Make sure that they are okay with you having an open house, and you are insured should anything go wrong. Not all home insurance policies cover open house events.
Also, ask yourself if you need to hold an open house event. Very few homes sell as a result of open house events. Potential buyers are much more interested in personal viewings. This is normally the most desirable way to go.
You can control the situation and make sure that you are not at risk of crime. The real estate agent may not agree with you, but you should always remember that the real estate works for you, not the other way around.
If you to decide to go ahead with an open house, make sure that you secure all of your valuables. In fact, you may even want to move your most treasured possessions and let a family or friend look after them on the day. You will want to secure your home to ensure all doors and windows are locked, and personal possessions put away and stored.
Open Houses may invite crime. Be sure to secure your home!
Click To Tweet
After the Open House is Over
Once the event is over, look around your home to make sure all doors are locked and windows are closed. An experienced burglar uses many tricks of the trade and one of them is to make it easier to gain access. They often come into the home to understand the layout of the home and gain knowledge of where the doors and windows are located.
Final Thoughts
It is all too easy to invite criminals into your home without knowing that you are doing so. Remember that once it is gone, it is normally gone forever. Protecting your home is paramount. The basics like locking your doors are the first step, but there are some other ways to protect your home. Security cameras offer a sense of security as well.
Crime is heartbreaking and selling your home is often enough of emotional experience and there is no need to make it even more stressful.
Find Other Valuable References for "Open Houses May Be Invitations for Crime" from Real Estate Professionals Across the Country. Check out the articles below, and please share on Social Media if you found the articles helpful.
If you are considering having an open house, you want to weigh the options. Bill Gassett has written an excellent post about Do Open Houses Work? In the article, he discusses both sides of this hotly debated topic where some say they are a necessary marketing technique, and others say they completely unnecessary.
The Internet has changed everything, and it's growing at such a fast pace. This includes marketing for homes. With the Internet, the real estate agent is able to market the home online. Jeff Nelson has put together a great post about Open Houses – Do They Work or Not? In the article, he discusses the cons of an open house which include shady characters who can attend the open house. Other cons include the real estate agent is often alone, and that can be risky.
The Internet has taken over as the source for home marketing with fabulous photos and videos, the use and need of open houses have declined greatly.  Paul Sian has written a detailed post about Does an Open House Make Sense? In the article, he states 90% of home buyers begin their home search online versus driving around and attending open houses. The argument for having an open house has diminished. He also discusses the importance of having excellent photos so the home makes an excellent first impression online.
About the Author
This real estate article "Open Houses May Be Invitations for Crime" was written by Sharon Paxson at Newport Beach Real Estate. With experience since 2005 representing sellers, buyers, landlords, and tenants, we look forward to the opportunity to meet you and work with you.
Whether you're looking to buy, sell or rent we will guide you through the entire real estate transaction. If you are considering buying or selling, feel free to call or text.
Summary
Article Name
Open Houses May Be Invitations for Crime
Author
Sharon Paxson, Top Newport Beach CA Realtor