Cameo Shores in Corona del Mar, CA
Cameo Shores is located in Corona del Mar, and is on the on the ocean side of Coast Highway. Cameo Shores hasapproximately 170 homes. There is a beautifully hardscaped entry to Cameo Shores located at the entrance to Cameo Shores. The homes in Cameo Shores are all terraced to maximize the view overlooking the Pacific Ocean. There is only one street at the top where the homes do not have the ocean views. There are height restrictions on how high they can be built so that the home owner's can maintain their views.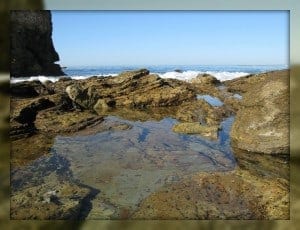 Many of the homes in Cameo Shores in Corona del Mar provide the illusion of being see through. With a court yard type of entry, typically these homes have large windows to see the views right as you walk in. As I stated before, when the homes were originally built in the 1960's, they were all one story. Residents are able to maintain that height restriction, and now they are building down to maximize the square footage and living space because of the terraced lots.
Cameo Shores in Corona del Mar has a park called Roxbury Park for children and get togethers. There are three private beaches for the residents of Cameo Shores and Cameo Highlands (which is located across the street from Cameo Shores). The beach has beautiful rock formations that creates a very picturesque view.
The residents that live in Cameo Shores have attend school in Corona del Mar. The elementary school in the area is Harbor View Elementary, and Corona del Mar High School is both the middle and high school.
The inventory in Cameo Shores is as follows:
There has been one sale since August, 2009:
4607 Perham sold for $3,100,000
If I can answer any questions about Corona del Mar Real Estate, homes for sale in Cameo Shores or Cameo Highlands, please contact me.
Text or Phone: 949.280.0681