Improving the flow and harmony in your home can increase your quality of life. It can, however, be difficult to know where to begin when aiming for good feng shui. Where do you start and what is important to produce more abundance in your home?
Adopting the philosophy of feng shui need not be complicated. There are many things you can improve in the rooms of your house, whether you are new to the ideas of feng shui or well versed in the methods. We take a look at some of the things you can do today to improve your living spaces and with it your health and happiness.
Inviting Energy In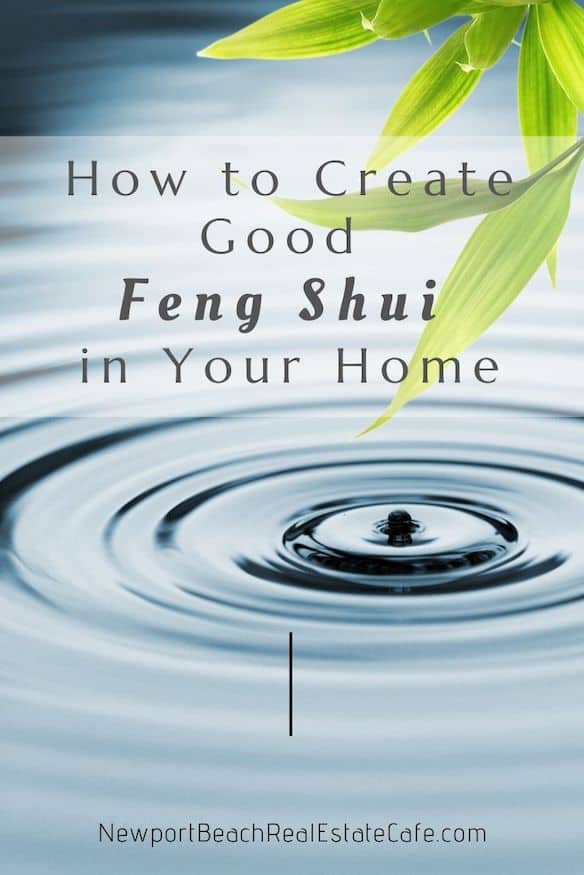 The entrance to your home is how positive energy enters your life. As such, your front door is a good place to start when looking to improve the feng shui.
The doorway into your home should be as clear of unnecessary things as possible. If there is clutter behind a door, then it cannot open all the way. If it does not open all the way, then you will only receive That means that you're only able to receive a partial allocation of the opportunities life has to offer. There are parts that you're closing yourself off to. Clear away shoes and coats into closets and make sure the area is kept clean. Don't n
eglect the outside of your front door either.
Make sure the entrance to your home is pleasant and inviting, adding or improving lighting can do wonders for this.
Commanding the Room
The way you position your furniture in a room is an important aspect of good feng shui. The commanding position you place your furniture and yourself in a room is fundamental. This is thought to govern the command you have over your life, giving you more energy and better opportunities.
Your bed is a representation of you, your desk is your career and your stove represents wealth and nourishment. When using these spaces you should ideally be able to see the door but not be directly in front of it. This will often mean you are diagonal to the door.
Open Your Eyes
The windows in your home represent the vision of the adults living there. Windows are the voices of children in feng shui. Keeping the glass clean in the windows of your home, will allow for more light to enter, creating a better environment for everyone living there.
Sunlight has the power to uplift the rooms of your home, giving you more energy and a better outlook. Cleaning your windows allows you to see the world around you more clearly, which should produce better outcomes in your life.
Whether you live in a small, affordable apartment in Denver or a home in Newport Beach, it doesn't matter, the windows in your home represent the vision of the adults living there. Windows are the voices of children in feng shui. Keeping the glass clean in the windows of your home, will allow for more light to enter, creating a better environment for everyone living there.
How to Create Good Feng Shui in Your Home
Click To Tweet
An Open Door to Opportunity
feng shui regards the door as a representation of your ability to communicate. They are also a means for the opportunity to flow into your life and, as such, they should not be obstructed.
Make sure that there isn't any clutter or furniture blocking the full use of the door. You should be able to open it fully without a problem, if you can't you are blocking some of the opportunity which could be coming your way.
Also, make sure the door's mechanisms work perfectly. Eliminate any squeaks and fix sticking catches to make the door works without issue.
Don't Block Your Route
Consider the things you do in your everyday life, the routes you take through your home. When moving around your home, from the living room to the kitchen to the bathroom, or whichever routes you take, are there obstacles in your way? It is very easy to place items in your home, be they furniture or other objects, which become an obstacle that you step over or around without thinking.
Promoting good feng shui in your home is helped by removing blockages in the pathways through your living space. It isn't only about the physical things like furniture or clutter which get in the way, it could be a door that doesn't shut as easily as it should. Perhaps you have draws filled with clothes that no longer fit which you spend needless time sorting through daily.
Take some time to seek out these blockages and push them gently out of the way.
Make Room
Having a home filled with clutter doesn't create the best environment to thrive. Good feng shui emphasizes the need to do away with the clutter and create living spaces that are open and feel spacious.
It is all too easy to allow the clutter to build up in your home. Items are put aside because you just know they are going to come in useful one day. Create more space in your home gradually, there isn't any need to put yourself under pressure.
Focus on one room, an area of a closet, or even a draw. You can start small and slowly build more space in your life. Go through the things that have accumulated in that cluttered area, getting rid of the unnecessary. When you have let go of the things which are no longer needed in your life, you allow the opportunity for new things to enter your life.
This space will inevitably become filled again, in time. Don't worry too much about this, it is all part of life and you will have the opportunity to sort through these areas again. Clearing areas of your home like this allows small new starts in your life and a fresh chance to discover new things. Link this creation of space to positive things, with an intention to produce better results in the things you want to do in through your life.
Plant Life
Filling your home with plants brings it to life. It gives you a connection with the natural world which can be missing in our homes.
Feng shui promotes the use of plants to provide more life energy to your living space. The living vibrancy which a plant adds provides vitality and freshness otherwise lacking. You should carefully choose plants which are suitable for your home and improve your environment.
Be Grateful
The belief that everything is living, is part of feng shui. This includes the rooms within your home. Life energy or qi, flows through both you and the spaces you live in. Find ways to be thankful to your home for the shelter and the opportunity it provides in your life.
Final Thoughts
feng shui utilizes energy forces that integrate individuals in their environment. The term feng shui literally translates in English as "wind-water". In Chinese culture, wind and water are both associated with good health.
About the Author
The above real estate article "How to Create Good Feng Shui in Your Home" was written by Sharon Paxson of Newport Beach Real Estate. With experience since 2005 representing sellers, buyers, and landlords with their real estate transactions, we welcome the opportunity to share our knowledge and expertise and guide you through the home buying or selling process.
We represent clients in the following Coastal Orange County CA areas including Corona del Mar, Huntington Beach, Laguna Beach, Newport Beach, Newport Coast, Tustin and more! If you are considering selling your home, we welcome the opportunity to work with you and list your home with a top Newport Beach CA Realtor.