Selling "as-is" may seem like a good idea and an easy way to sell your home. You may want to avoid fixing problems in your home and sell without those hassles, but there are many downsides to selling this way. You might be concerned if you invest a fair amount of money into the home just before selling it, you may recoup it with your sale. There are pros and cons of selling a home as-is.
The Pros of Selling As-Is
No Repair Costs
Selling a home as-is, allows you to avoid the expense of making repairs. If you simply don't have the money available this can be an option. Before you fully commit to an as-is sale, talk with your real estate agent to see if they have a better solution.
Keep in mind that a home must be habitable in order for a buyer to obtain a loan on the property. So, if you do not have an operable kitchen the buyer may not be able to obtain a loan. Other factors that can influence the financing include open walls, no flooring and more. So there may be some cost getting the home ready to sell.
Avoiding Stress
If you find yourself in a situation where you simply can't deal with any problems with the house sale, this may be a good idea. If you are dealing with poor health, for example, you may not want any added burden or problems which can arise during the sometimes long home selling process.
There may be other options including asking family members for help. Remember hiring a real estate agent can effectively guide you through the home selling process. A real estate agent will let you know what problems you should address.
Anticipating what can happen during the home selling process will surely help you to avoid stress, so be sure to consult your real estate agent.
Distressed Sale
If you are in a very bad situation financially, selling as-is may seem like a good way out. There are a number of companies that specialize in buying houses in these situations. Companies such as We Buy Ugly Houses will offer less than the market value for the home, but they offer an almost immediate sale without many of the stages normally required in the process.
If you take this path, don't expect to get a fair price as they will try to pay the minimum you will accept.
The Cons of an As-Is Sale
Assuming the Worst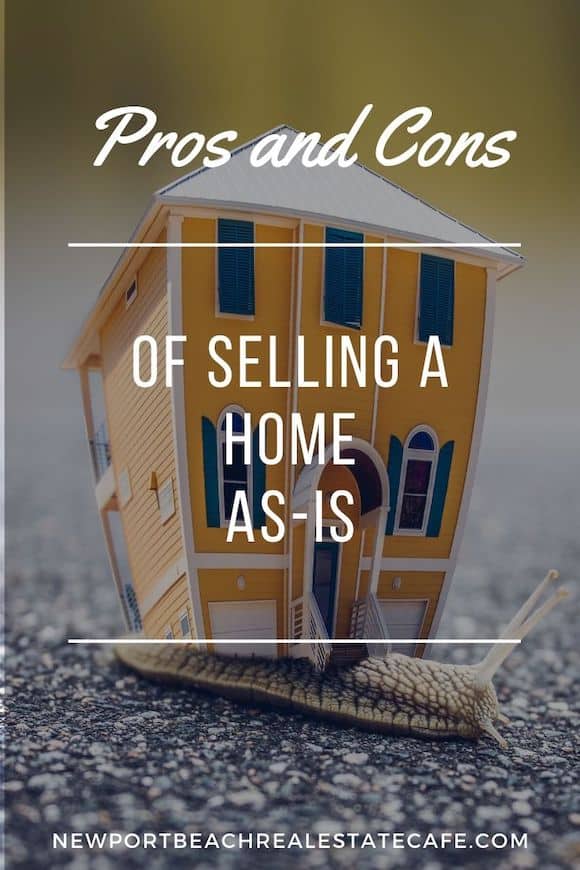 When a buyer finds out that your home is being sold as-is, they are naturally going to have a lower opinion of the property. The assumption will be that there are major problems with the home, which will be very costly to repair. If this isn't the case, you will be putting off potential buyers for no reason.
Buyers may think there has been deferred maintenance on the home and the major systems have been neglected. Remember a buyer will want fair market value for the home, and if there is obvious signs of deferred maintenance, offers will be reflected in that price point.
A home inspection may turn up safety and neglected items in which a buyer will have the right to ask for a request for repairs. Buyers are savvy and they will know what to negotiate in a home inspection. Or they may ask for a credit for these neglected repairs or renegotiate the price point. It is important to prepare for a home inspection and fix as many of the items as possible to avoid having a renegotiated purchase price.
Low Offers
Buyers are going to offer lower amounts when they find out you are selling as-is. Whatever the reason for your choice, you will find that any offers you get are going to be considerably lower than the fair market value of the home.
Less Interest in the Home
You are going to discover that the as-is sale will attract less interest from buyers. People will be deterred from giving your home a second look, leaving you finding it difficult to sell. If you were looking for a less stressful way to sell your house, having to leave it on the market for much longer, may not be it. You may get few or no showings at all.
If you were to not put it on the market as is, you could still accept offers and turn down requests to repair issues. This could result in further negotiations over the price but you would get more buyers interested in the first place.
What are the Pros and Cons of Selling a Home As Is
Click To Tweet
Difficulty in Proving the Value of Your Home
It is going to be hard to make potential buyers believe your home is worth paying a fair price for. Buyers will have a negative view of the home even before they have gone to a showing. They will assume that you are hiding negative things about the property and you will have to work hard to overcome that.
If a buyer is obtaining a loan, then the lender will require an appraisal. There is a possibility that the home will not appraise as the appraisal will take into account the condition of the property. There are many reasons why a home will not appraise including the condition of the property and unpermitted additions.
Disclosing Defects
While you may think you can avoid mentioning the problems with the home to potential buyers, this may not be the case. It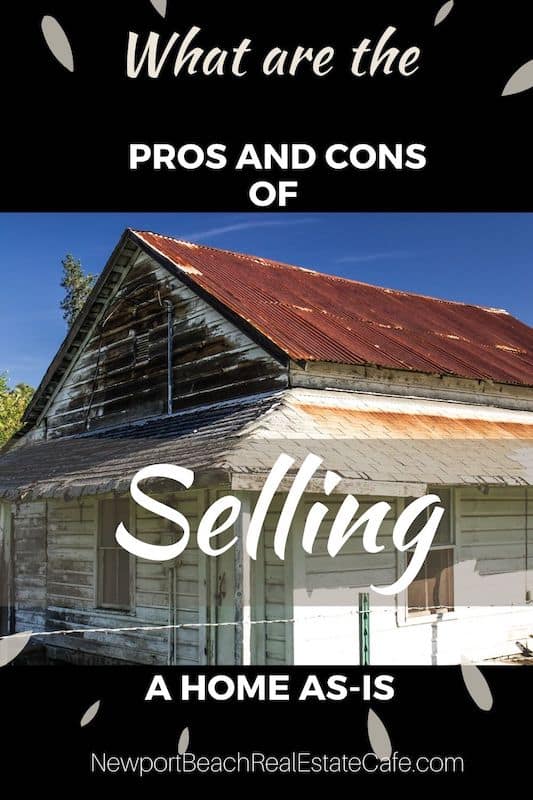 varies between states but you may still need to be honest when answering buyer's questions. It is important to discuss all material defects that you have knowledge of in the home. Your Realtor will explain to a seller to disclose the defects that you are aware of, and if don't know, then simply state you do not know. It is up to the buyer to inspect and perform their own due diligence to determine the condition of the home.
Your real estate agent has obligations to tell buyers about all the defects the house has. They have to work in accordance with the Consumer Protection Act and can't hide information that would influence the buyer's decision on the property. If an agent is aware of something in regard to the property, they will disclose it on their agent visual inspection disclosure.
Remember it is in the seller's best interest to disclose all material and known facts about the home to a new buyer.
What Can You Do?
There are ways to address deferred maintenance before selling your home. If you see something that is in disrepair, letting it go will only make it worse. Consider purchasing a home warranty plan which will help you to get the repairs needed on our home. Home warranty plans do not cover any cosmetic defects but will cover the systems of the house. There are limitations, but this may be an option.
The Compass Concierge Program is designed to prepare your home for the real estate market! Compass Concierge will work with a seller to evaluate the home to elevate your home's value and cover the upfront costs associated with improvements & house preparation services. Compass Concierge will not charge interest on the money loaned to the homeowner. The real estate agent will work the seller to ensure that the repairs are done and your home will shine. Compass Concierge allows the opportunity to get your home in tip-top condition and create a great first impression.
Hire a great real estate professional who can guide you through the home selling process. There are some great questions to ask when hiring a Realtor so you feel as though you are in good hands with your agent.
Final Thoughts
As you can see, there are many negatives if you choose to take the as-is sales path to sell your home. Even the pros of selling in this way, aren't particularly good, and you will be better off if you can avoid this situation.
Ask advice from your real estate agent to see if they have a better solution to selling your property. It could lead to a higher price being achieved and selling faster than the as-is sale.
About the Author
The above real estate article "What are the Pros and Cons of Selling a Home As-Is" was written by Sharon Paxson of Newport Beach Real Estate. With experience since 2005 representing sellers, buyers, landlords, and tenants, we welcome the opportunity to share our knowledge and expertise and guide you through your real estate transaction.
If you are considering selling your home, we welcome the opportunity to work with you and list your home with a top Newport Beach CA Realtor.