New and Interesting Homes for Sale in Newport Beach and Costa Mesa
Broker Preview
Newport Beach
October 16, 2009
Today was an excellent day for Broker Preview for Newport Beach and Costa Mesa. Every Friday is the day for broker preview for Newport Beach and Costa Mesa for new homes listed on the MLS or price changes. I like to preview the inventory and pass on the information about some of the homes that I have the opportunity to see.
The home located atstyle home is truly unique home. There is a wrap around porch and a rounded entry with leaded glass front doors. The home leaded glass windows throughout, and there are many details to appreciate in this East Side Costa Mesa home for sale. This home in East Side Costa Mesa is value range priced at $1,795,000 to $1,900,000.
This home had very unique architecture. There is a indoor spa with a waterfall. There is also a full bathroom located on the first level. The detail on the chimney is impressive with all the intricacies and the pattern.
Another beautiful home I toured today was 301 North Star Lane which is located in the Dover Shores area of Newport Beach. This single-family home located on the water features 5 bedrooms, 4 bathrooms, and is priced at $3,795,000.
The view from this Dover Shores home for sale in Newport Beach is beautiful and does face the west. This property at 301 North Star Lane is in a very desirable area of Newport Beach.
Another spectacular home I toured today was located at 939 Via Lido Soud. This is a spectacular home located which is like a French Chateau at the end of the Lido Island with a sweeping view of the turning basin. There is a spa located outside to enjoy the weather and amazing location. This home has a spectacular entry with beautiful leaded glass in the entry. This property can accomodate up to four large yachts ranging in size from 40′ to 80′. This home is priced at $11,500,000.
The view from this property is beautiful.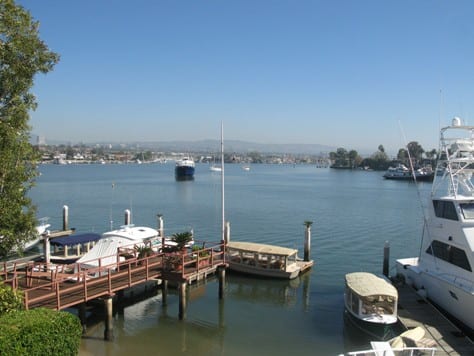 Another property I toured today, is a great buy, and I am going to suggest it for the Newport Beach Top Ten Deals is 340 Prospect in Newport Shores in Newport Beach. This single family home is located in Newport Shores area of Newport Beach and is a well-maintained home. There is a very nice patio area to enjoy the California Climate and a koi pond. This single-family home in Newport Shores is priced at $699,000.
If I can answer any questions about Newport Beach Real Estate or homes for sale in Corona del Mar, please contact me.
Phone or Text: 949.280.0681
Search the MLS for homes for sale in Newport Beach.
Disclaimer: Information contained herein are the views and opinions of Sharon Paxson. This information may be based on information from multiple sources and may be subject to change without notice. This information is not guaranteed, have warranties either express or implied, may be time-sensitive, and may or may not be deemed reliable at the time of researching this article. Information regarding property for sale and market reports is obtained from the SoCalMLS.